Reprinted from the Columbian:  
By Amy Fischer, Columbian City Government Reporter / Published: March 11, 2016
Preliminary construction work is underway on downtown Vancouver's 7.3-acre public par that will be the heart of a future $1.3 billion mixed-use development on the Columbia River.
Once completed, the $17 million city park is expected to be a community, regional and state draw, said Julie Hannon, the city's Parks and Recreation director. The park is scheduled to open to the public late next year.
"When all is said and done, it's going to be magnificent," she said Thursday.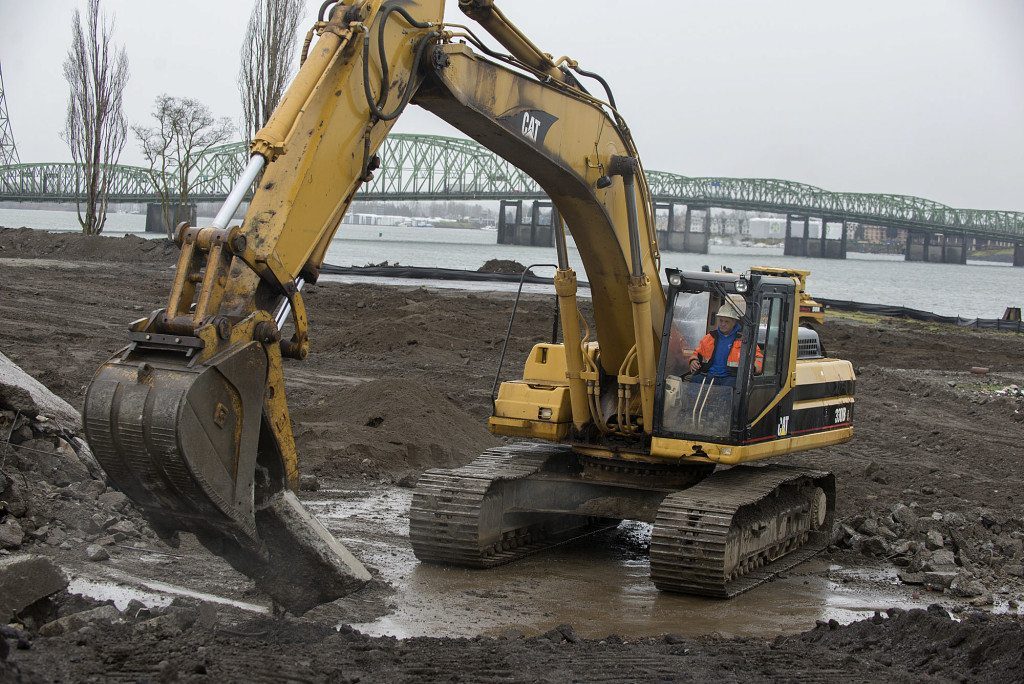 Watching backhoes and bulldozers churn through mud and rocks, it's hard to imagine the grassy, manicured park that will occupy the former industrial site, once home to part of a Boise Cascade paper mill. The city is paying Colf Construction of Vancouver $256,000 to clear obstacles, adjust utilities and prepare for construction of a half-mile extension of the 5-mile Renaissance Trail that will run through the park. Funding for the regional trail segment, which will be concrete with decorative paving accents, comes from a federal transportation grant.
The preliminary work should be finished by May. It lays the groundwork for the park and trail construction, which begins this summer.
Along the riverfront trail will be a sandy play area with large stone salmon and a ship-themed rope rigging for climbing. A water feature will be built later, once enough private funding is raised, Hannon said. At the park's west end will be a floating fishing dock, which will be wheelchair-accessible.
Construction on the park's centerpiece, a dramatic, triangular, cable-suspended pier, was supposed to begin this winter but was delayed because of a delay in obtaining the necessary permits from the Army Corps of Engineers, Hannon said. Now it appears the in-water work on the pier will start in October, she said, adding that the delay shouldn't affect the overall construction timeline. 
The "breathtaking" pier, as Hannon describes it, was designed by internationally acclaimed artist Larry Kirkland, whose public art can be found around the world.
In addition to the park, construction on five buildings — two restaurant buildings, two apartment buildings and one office building — is slated to begin this summer by Gramor Development of Tualatin, Ore.
Two tenants have been secured for Gramor's 21-block development, called The Waterfront Vancouver. Overlooking the pier, Twigs Bistro and Martini Bar, a Spokane-based eatery, will open up to the park and a promenade, with outdoor seating providing a vista of the Columbia River. M.J. Murdock Charitable Trust, a foundation that awards millions of dollars in grants annually, plans to move its Vancouver headquarters from 703 Broadway to the top two floors of a seven-story building at 305 Columbia Way.
The city is still seeking sponsors for the park's water feature, fishing pier, benches and tables. Interested parties should call Hannon at 360-487-8309.
Amy M.E. Fischer: 360-735-4508; amy.fischer@columbian.com; twitter.com/amymefischer